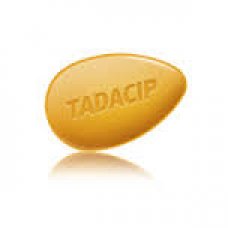 Tadacip 20mg X 30 contains 30 tablets with 20mg of Tadalafil. (You also get 10 Free Pills as a thank you for paying by Direct Deposit). Tadacip 20 by Cipla Labs is a highly regarded generic Cialis. Cipla is one of the worlds largest and trusted makers of generic medicines. This Generic Cialis medication has revolutionized the way physicians treat men suffering from erectile dysfunction (ED). For the first time, a potent oral medication is available that is able to markedly improve sexual activity in over 80% of men with impotence. The effects generally last up to 36 hours.
Generic Cialis is used for: Treating erectile dysfunction (ED). It may also be used for other conditions as determined by your doctor. Generic Cialis is a phosphodiesterase inhibitor. It works by helping to increase blood flow into the penis during sexual stimulation. This helps you to achieve and maintain an erection.
Do NOT use Generic Cialis if:
•you are allergic to any ingredient in Generic Cialis
•you have been advised by your doctor to avoid sexual activity because of heart problems
•you are taking nitrates (eg, isosorbide, nitroglycerin) in any form (eg, tablet, capsule, patch, ointment) or nitroprusside
•you use certain recreational drugs called "poppers" (eg, amyl nitrate, butyl nitrate)
Contact your doctor or health care provider to ensure this medication is right for you.
After you place your order you will get an order confirmation email. Remember to check your Junk or Spam email folder. After we receive payment your order will be processed for shipping. This may be from Overseas or from a local Reshipping Agent. You can expect to get a Tracking Number 24 to 48 hours after payment is confirmed. Order delivery times do vary. They can be anywhere from 3 Business days to 12 Business days. If you have urgent need - send us an email and we will try and help.
Generics Cialis Tadacip 20mg X 30 (Plus 10 Free Pills)